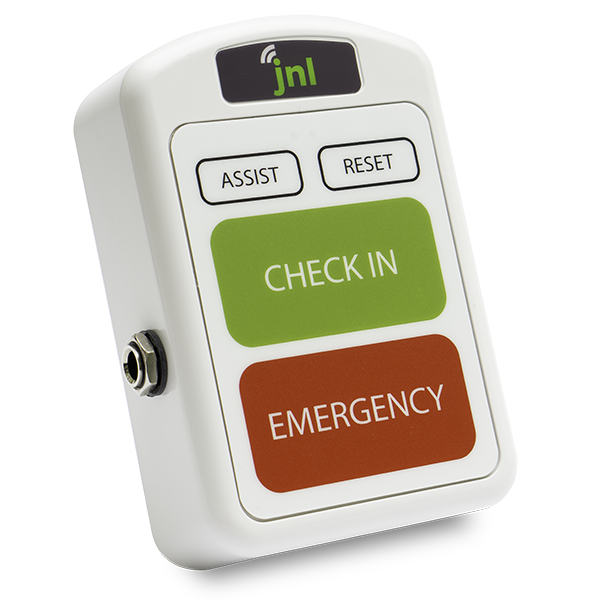 Giving our customers and their residents peace of mind in their personal living space with the all-new Quantum Multi-Call Pull Cord.
Ixonia WI. JNL Technologies Inc., a manufacturer of safety and security products for the Long-Term care industry announced the release of an all-new multi-call pull cord. This new innovative call device provides a competitive edge for our channel partners and enhances safety and security for our customers and their residents.      
The easy-to-install Quantum multi-call station is a wireless, battery-operated call device installed inside resident living areas as well as common areas. When a resident activates the Quantum multi-call station, a message is immediately sent to a Quantum alerting device for on-the-go staff response.
The all-new multi-call device offers three ways that residents can call for help:
Residents can trigger an alarm by pressing a large button on the front of the device.
By pulling a clean cord.
Activating an optional call cord.
Additional advancements include:
Check-in function: Residents can check in by pressing the easy-to-read check-in button.
Staff Assistance: Staff can press the assist button to request assistance with in-room situations.
According to JNL's President, James Gleason, the new multi call station design was driven by feedback from the market and will complement our existing line of fixed stations. Our Research and Development team continues to seek product innovations through our customer centric development process to meet evolving customer needs.
The all-new multi-call pull cord is offered by JNL's certified dealer network. Learn more at jnltech.net. Contact JNL Technologies at 262-244-7409 or email sales@jnltech.net
About JNL Technologies
JNL is a leading provider of nurse call and resident monitoring technology in the senior housing market. With over 25 years of hands-on experience in aging, health care, nurse call, remote monitoring, and wander management technology, JNL has created Quantum, a unique and seamless nurse call, access control, and wander management system. Using a network of vetted and trained partners, JNL offers full-featured senior safety technology to long-term care communities throughout the United States. For more information, visit jnltech.net, or contact sales@jnltech.net